I am a visual artist using various media including interactive installations, speculative visualizations, sculpture, drawing, painting, photography 3D modeling and virtual environments. I explore aspects of global capitalism such as spectacle, control, helplessness, the superhuman, the post-human, the sub-human and the crisis of truth and identity.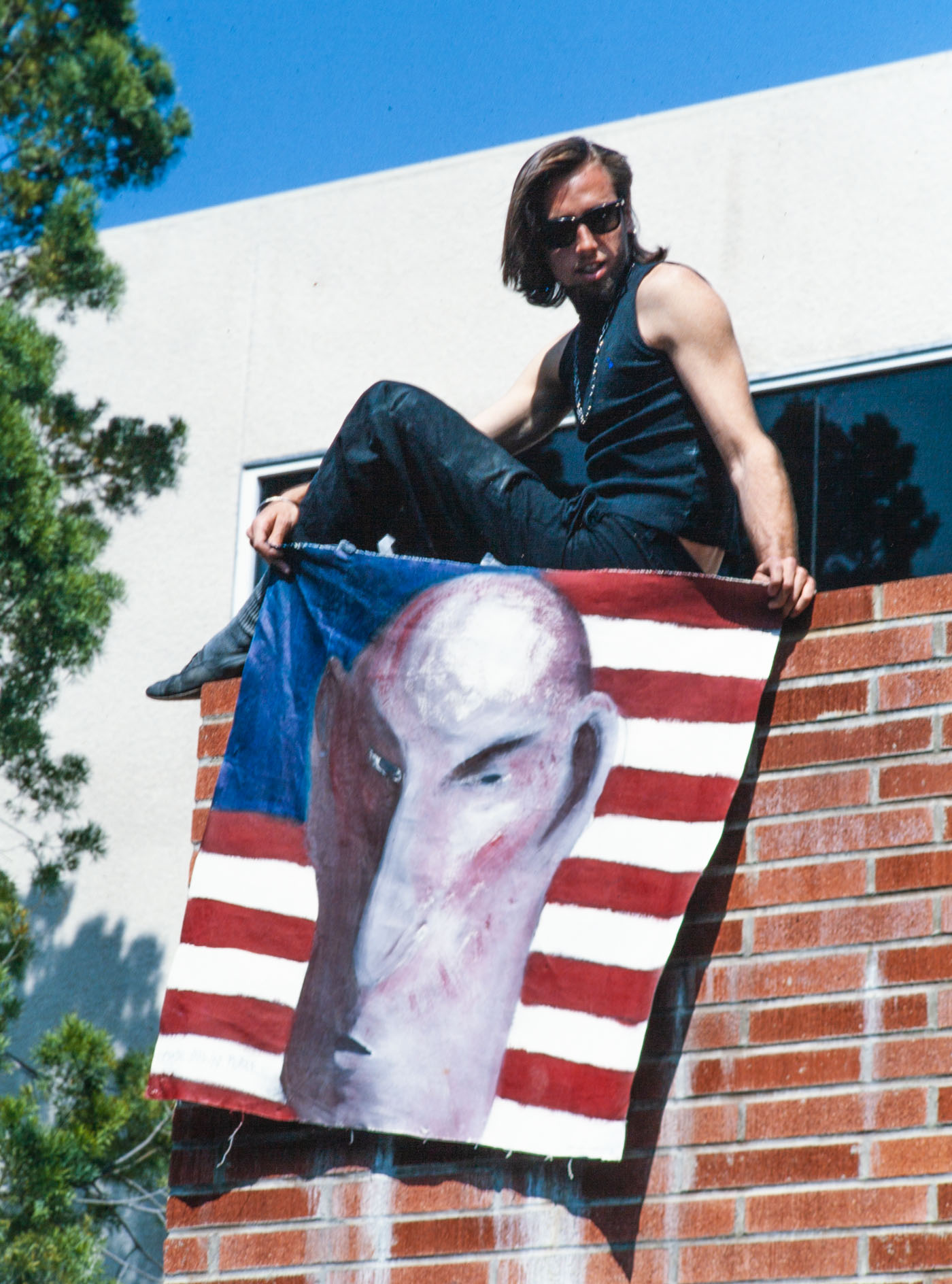 Anti-Apartheid Protest at UCLA with Mutant Flag Painting, 1985, oil on canvas
I benefit(ed) by being born a white male and being educated in the liberal ideal public schools funded by Malibu and California wealth. I am a product of the post war investment in infrastructure and education, as well as the post-Reagan disinvestment and chaos ensuing from the war machine, financial speculation, and media disinformation.
In the late 1980s, I co-created and performed in a dada-esque ritualistic troupe called Laughter Walking, seven beings based on the seven chakras. We would show up uninvited at museums, art openings, festivals and even Abbie Hoffman's memorial. It was cathartic but rather naive in its cultural appropriation of native rituals and beliefs. I continued doing performance in grad school at SF State, where officially my degree was in sculpture. I built props for the performances including a bird puppet that mirrored a character in my performance. My thesis project, Labyrinth/Laboratory combined alchemy, medicine and biotechnology themes to trace a history of healing in a three level crawl-through maze of interactive machines. After grad school, I gave up performance mostly but my installations are still informed by the performative aspect of user interaction. My work with Dummy can serve as a point of entry to ideas of helplessness and control, violence and grief. Dummy is a stuffed fabric puppet, roughly life-size, that can be manipulated with pulleys and ropes. In his belly is a red orifice where one can insert a hand to probe its insides, an open target of vulnerability and potential violation. Participants are allowed to handle the dummy in whichever way they would like and often take out their emotions on him. This piece illustrates the influence psychological experiments of the 1960-1970s, such as the Bobo doll learned violence experiments with children, has had on me.
The art exhibition is ripe territory for psychological manipulation, where user testing of experiences and products can be done easily and quickly with many willing and excited participants. Much care must be taken to ease visitors into and out of the experience so as not to trigger or cause trauma. By posing the concept as a real product or service, participants get a vivid understanding from which they can react authentically. My background in product and interaction design especially informs Acclair, a speculative design project where participants (users) are brought through brain-scanning simulations for airport security clearance (2004-08) and an art valuation service (2009-2013).
The global capitalist obsession with speed and consumption is most represented in the speculative work LA Interchange, a real-time memorial for highway accident victims. Sited at the interchange of the Pasadena/Harbor (110) and Santa Monica freeways (10), a 50' high water fountain the scale of a Las Vegas water show is triggered by data scraped from the California Highway Patrol accident database. Site research was conducted and plans made to pitch the idea to the Los Angeles city council. The Los Angeles Times and KNX radio picked up the idea and interviewed people about their views of it, some expressing disbelief. My dream was to have Eli Broad fund it. I created a scale model of the freeway with a working fountain and digital display of the accidents happening in real time. During the exhibition at Pro Arts in Oakland, CA in 2010 a viewer saw the representation of a fatality (severity 5) and told me she felt a real sense of grief, but also a calming effect aided by the water and the blue colored light. Alas, it was never showed in Los Angeles. All the components exist and could be resuscitated. Call me.
We live in a beautiful, complicated and ultimately fragile world, each day becoming more so as climate change becomes ever more evident, ever more destructive. The artificial intelligence boom further puts at risk any shared truth across polarized communities. And yet, I continue to make work, most recently exploring 3D modeling and virtual environments to test out interactive sculpture ideas, ink drop paintings resembling micro organisms and returning to soft sculpture, this time using balloons, pantyhose and synthetic fur (Mommy Nylons). This work may be a reaction to ideas of the superhuman and how we might become partners with synthetic biology or become slaves to such systems.
I try to be playful, entertaining the absurd while highlighting the real. Some sculptures resemble creatures with legs, orifices, biological factories. Making the work with balloons, pantyhose and fake fur is a sensual experience. The work is enjoyable to touch. And yet, like previous soft sculpture, there's a repelent aspect. The "Are You My Mommy?" series has a voluptuous maternal aspect, and goes through stages of life such as perkiness, abundance, saggyness and ossification. The ink drop pieces are stream of consciousness abstractions that surprise me with happy accidents and joys of chance outcomes. I enjoy making art most of the time. Sometimes it's a struggle, but the cliché is real: I have no choice, every day I think about it and don't feel right if I am not making something.